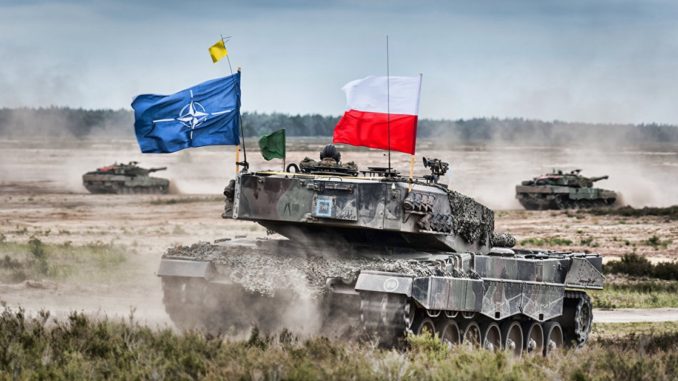 Czy należy wypowiedzieć wojnę Rosji? Po tym jak Rosja, jak wiadomo na osobisty rozkaz pana Władimira Putina dokonała ataku bronią chemiczną na terytorium kraju NATO, nie pozostawia nam żadnej wątpliwości i możliwości manewru. Atak bronią chemiczną na terytorium kraju członkowskiego, w tym na obywateli kraju członkowskiego jest wypełnieniem warunku art. 5 Traktatu. Jako państwa NATO jesteśmy zobowiązani na ten atak odpowiedzieć, ponieważ już zostaliśmy zaatakowani, de facto jesteśmy w stanie nie wypowiedzianej wojny z Rosją. Wszystko, co jest potrzebne, to jej formalne wypowiedzenie.
Dziwi kogoś powyższe? To proszę posłuchać bredni i idiotyzmów, które są wypowiadane przez polityków brytyjskich, europejskich (z wyjątkiem Niemiec) i trudnych słów wypowiadanych przez polityków w Polsce (ciężko wszystkich tych ludzi nazwać polskimi politykami). Co takiego trzeba mieć w głowie, żeby twierdzić, że Prezydent Federacji Rosyjskiej na tydzień przed wyborami w swoim kraju, zlecił otrucie zdrajcy swojego państwa, wysublimowaną substancją chemiczną, którą posiada tylko jego kraj?
Można zrozumieć, że Rosja mogłaby chcieć doprowadzić do ukarania zdrajcy (oficera służb specjalnych, który zdradził). Nawet jeżeli wcześniej zdecydowała się na jego wymianę za swoich agentów. Jednakże dlaczego miałaby to robić na tydzień przed wyborami prezydenckimi oraz z użyciem techniki wykorzystującej substancję, która prowadzi wprost do najtajniejszych laboratoriów b. ZSRR?
W te bujdy na resorach nie można wierzyć właśnie z tego powodu, ponieważ to klasyczna podpucha i to się po prostu kupy nie trzyma. Gdyby jakiekolwiek służby specjalne chciały tego pana zlikwidować i to w taki sposób, żeby inni potencjalni zdrajcy zrozumieli, że nie warto jest tak ryzykować. To bez problemu poradziłyby sobie z użyciem klasycznych technikaliów w rodzaju pirotechniki, klasycznej chemii lub ołowiu w płaszczu stalowym kalibru 9 mm, ewentualnie dwóch umyślnych znających określone techniki obezwładniania i uśmiercania. Rosyjskie służby specjalne poradziłyby sobie z tym również NA PEWNO.
Reasumując, nawet jeżeli Rosjanie chcieli tego człowieka zlikwidować, to nie w takim czasie i nie takimi metodami, ponieważ to jednoznacznie prowadzi do dalszych ataków na Rosję i może spowodować wielomiliardowe straty gospodarcze. Mogli go zlikwidować na 100 innych sposobów, chociażby pozorując wypadek komunikacyjny. Zawsze są różne opcje.
W wykreowaniu tej medialnej histerii Rosja nie ma żadnego interesu, nie jest prawdą że ta śmierć posłużyła na użytek wewnętrzny. Z tej banalnej przyczyny, ponieważ rosyjskie społeczeństwo w dominującej części to patrioci miłujący Ojczyznę, mają jednoznaczne stanowisko wobec zdrajców.
Wielka Brytania ma poważne problemy z Brexitem i z licznymi mniejszościami inno-kulturowymi, które zachowują się na jej terenie w sposób skrajnie trudny i są źródłami licznych problemów. Te okoliczności indukują istotną nerwowość brytyjskich elit, które szukają tematów zastępczych. Wymieniony rosyjski podwójny agent jest idealnym tematem zastępczym, zwłaszcza jak dramatycznie ginie w trudnych do wyjaśnienia okolicznościach i to dla uwiarygodnienia wraz z członkiem rodziny.
Można przypuszczać, że to "mała strata", ale realny zysk wizerunkowy, chociaż dla każdego kto ma podstawowe umiejętności analityczne, jest to dowód na to jak Zachód jest bezsilny i jak nie może dobrać się do Rosji, chociaż by chciał. Jeżeli bowiem – prawdopodobnie – musi się posuwać, do udawania ataków rosyjskich na własnym terytorium, do szkalowania Rosji, to naprawdę jest krok przed upadkiem. Sama substancja jakiej użyto nie ma znaczenia, ważne jest to o jakiej napisały media i "uwiarygadniająca" grupa profesorów, którzy po upadku ZSRR dali się kupić Zachodowi. Warto też pamiętać, że to Amerykanie zabezpieczali składy poradzieckiej broni biologicznej i chemicznej jakie pozostały po ZSRR w krajach radzieckiej Azji Środkowej.
To, co widzieliśmy do tej pory to dopiero preludium do ataku na Rosję, kolejnym krokiem jest wydalanie dyplomatów, do czego mają przyłączać się też i inne kraje (rzekomo Polska). Następnym ma być bojkot mistrzostw piłkarskich w Rosji. O to tutaj chodzi, o uderzenie wizerunkowe w rosyjskie poczucie elementarnej uczciwości i tamtejszą gościnność.
Proszę więc rozważyć, czy jeżeli to był atak niekonwencjonalny (chemiczny), na terytorium kraju NATO, czy powinniśmy rozpocząć wojnę z Rosją? Przecież art. 5 nas do tego zobowiązuje. No, a tak na marginesie, co jest bliżej Mińska i Moskwy patrząc na mapę? Warszawa, czy Londyn? 
Polska przyłączając się do brytyjskich zagrywek PR-owych, może tylko stracić. O głupszą politykę po prostu trudno. Można zrozumieć, że coś zostanie podjęte kolektywnie przez całe NATO, bo już nie Unię Europejską, bo Brytyjczycy nas opuścili… Jednak żadne jednostronne akcje nie są tu potrzebne, bo to nie nasza sprawa. Chcecie Państwo umierać za to, że ktoś rzekomo zabił rosyjskiego zdrajcę w jakiejś podrzędnej miejscowości w środkowej Anglii?